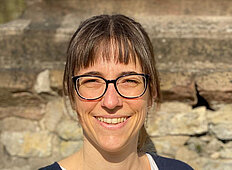 Lehrbeauftragte
Text Linguistics, Intertextuality, Register Analysis, Syntax, Non-Canonical Syntax, Non-Canonical Syntax, the Language of Evaluation
PhD in English Linguistics, summa cum laude, University of Vechta
M.A. in English Linguistics, French Linguistics, and English Literary Studies, University of Würzburg
First State Exam in Italian (LA GYM), University of Würzburg
First State Exam English and French (LA GYM), University of Würzburg
University of Würzburg (2007-2011)
Diachrone Linguistik Entwicklung des Englischen Wortschatzes
Dialects of English
Einführung in die Englische Sprachwissenschaft
Englische Phonetik
English Phonetics and Phonology
English Syntax
Examensvorbereitung GYM: Syntax
Introduction to English Linguistics
Klausuren- und Lektürekurs GYM
Klausurenkurs Staatsexamen GYM – Textaufgabe
Klausurenkurs zur Vorbereitung auf das Staatsexamen GYM: Moderne Textaufgabe
Satzstrukturen im Englischen
Sprachwissenschaft für Examenskandidaten GYM (Schwerpunkt: Syntax)
Syntax Crash Course (Examensvorbereitung GYM)
Varieties of English
Vor- und Begleitkurs Linguistik I
Vorbereitung auf die Zwischenprüfung
University of Würzburg (since 2017)
English Textlinguistics
University of Vechta (since 2011)
Einführungsübung in die anglistische Sprachwissenschaft
English Morphology and Word-Formation
English Non-Canonical Syntax
English Phonetics and Phonology
English Pragmatics
English Semantics
English Sociolinguistics
English Syntax
English-German Contrastive Linguistics
Leuckert, S. & Pham, T. (eds.) (under contract). Non-Canonical English Syntax: Concepts, Methods, and Approaches. Cambridge University Press.
Pham, T., Leuckert, S., Dreschler, G., Götz, S., Günther, C., Kircili, K., Lange, C., Mycock, L., Neumaier, T., & Rüdiger, S. (fc.). Defining non-canonicity: An integrated approach to modelling syntactic variation.
Pham, T. (2017a). "Hard to beat Dickens' characters': Non-canonical syntax in evaluative texts. In C. Lange & T. Rütten (Eds.), Non-canonical Grammar (pp. 274-264). De Gruyter. (Special Issue of the Zeitschrift für Anglistik und Amerikanistik)
Pham, T. (2017b). Factorial Surveys: A Novel Empirical Method in Cognitive Linguistics. In S. Featherston et al. (Eds.), Online proceedings of Linguistic Evidence 2016 (pp. 1-17). Universitätsbibliothek Tübingen.
Pham, T. (2016). The Register of English Crossword Puzzles: Studies in Intertextuality. In C. Schubert & C. Sanchez-Stockhammer (Eds.), Variational Text Linguistics: Revisiting Register in English (pp. 111-138). Walter de Gruyter. (Topics in English Linguistics, Edited by Bernd Kortmann and Elizabeth Traugott)
Pham, T. (2014). Intertextuelle Referenzen auf Shakespeare – Eine kognitiv-linguistische Untersuchung. LIT-Verlag. (Beiträge zur Englischen Sprache und Kultur, Vol. 2, Edited by Prof. Dr. Rudolf Emons)
Schubert, C. & Pham, T. (Eds.) (2012). Raumtexte – Texträume. Sprachwissenschaftliche Studien zur Verortung im Diskurs. Frank & Timme GmbH. (Kulturen – Kommunikation – Kontakte, Bd. 11, Edited by Prof. dr. Hartwig Kalverkämper)