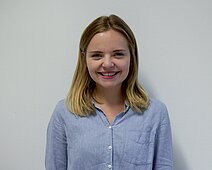 Research Fellow
Office Phone and Email
Room: 5.U.11
Phone: +49 931 31-87765
Email: regina.grund@uni-wuerzburg.de
Office hours during the Summer Break 2023
Monday, 31.7., 14-15

Thursday, 17.8., 14-15

Tuesday, 19.9., 10-12 (also "Fachbereichssprechstunde")
Moreover, please send me an e-mail if you wish to schedule an appointment.
(Second) Language Acquisition, Foreign Language Learning and Teaching, Crosslinguistic Influence, Grammar Education, Learning with Digital Media
PhD project (working title): Data-driven grammar learning: Learner attitudes, effectiveness, practical implications for future development
University of Bamberg
Introduction to English Language Teaching and Learning (Seminar)

Going Digital with Texts and Grammar in ELT (Seminar)
Academic Writing in TEFL (Übung)
TEFL Intro Goes Digital (Übung)
University of Würzburg
Tutorium zum Einführungskurs "Introduction to English Linguistics"

Tutorium Englische Sprachwissenschaft
Morphology (Seminar)
Syntax (Seminar)
Portfolios and Term Papers in English Linguistics (Übung)
English as a Foreign Language (Seminar)
University of Würzburg, 2020:
Teacher's Degree (1. Staatsexamen) in English and French

Bachelor of Arts: English & French
Grund, R., & Zirkel, M. (2023). TaskCards im Englischunterricht: Sprachbewusstheit mit Fokus auf Diversität fördern. Englisch 5-10, 63. 38-39.
Grund, R., Schneider, P., & Gärtig-Daugs, A. (2023). Die digitalen Lehr-Lern-Labore der Universität Bamberg als Bindeglied zwischen Theorie, Praxis und Forschung. In M. Meier, G. Greefrath, M. Hammann, R. Wodzinski & K. Ziepprecht (Eds.), Lehr-Lern-Labore und Digitalisierung (pp. 161-165). Springer Fachmedien. https://doi.org/10.1007/978-3-658-40109-2

Grund, R., Gründel, L., & Swallow, N. (2022). Reflective practice for primary English teachers: A qualitative analysis of expert interviews. In T. Summer & H. Böttger (Eds.), English in primary education: Concepts, research, practice (pp. 191-212). University of Bamberg Press. https://fis.uni-bamberg.de/handle/uniba/57525
Grund, R., & Zirkel, M. (2022). Leseverstehen mithilfe von song lyrics überprüfen: Grundlegende Überlegungen, Aufgabenformate und ein Beispieltest zum Song Hero of War der Band Rise Against. Englisch 5-10, 58. 30-32.
Grund, R., & Summer, T. (2022). The unsung heroes of the world: Anhand des Songs Superheroes über Heldinnen und Helden des Alltags reflektieren und sprechen. Englisch 5-10, 58. 34-35.
We'll study grammar: L1 German influence on English future time reference (Talk). IAWE25, Stony Brook University. 15.-17.06.2023.
Songs in ELT: A survey on university students' beliefs and their experiences in English lessons (Talk). Anglistentag 2022, University of Mainz (with Theresa Summer & Michelle Zirkel). 02.-05.09.2022.
Learning the present perfect and simple past through edu-apps (Talk). IATEFL 55th International Conference & Exhibition, Belfast. 17.-20.05.2022.
Learning the English present perfect: Nature and extent of L1 German influence (Talk). Modern Linguistics and Language Didactics (LiDi) 2022, University of Kassel (with Barış Kabak). 28.-29.04.2022.
Autonomous grammar learning: Future time reference in German and English (Talk). Nachwuchstagung für Englische Linguistik (NEL-3), University of Würzburg. 22.02.2021.